Browse through our office spaces to let in Fitrovia and either add the offices to the shortlist or send us an enquiry regarding the offices of interest. We have one of the largest selections of office spaces to rent in Fitzrovia and we are sure you will find the Fitzrovia Office space you are looking for.
---
Our team is experienced in renting or locating office space in Noho and know the area. So finding the right office to rent in Noho should be much easier.

When searching monmouthdean.com for office space to let in Fitzrovia you will see various sizes and price ranges to accommodate your needs, ranging from cheap to high end offices in Fitzrovia which can both be easily found. There is long term and temporary Noho Office space so just ask any members of our team if you are unsure.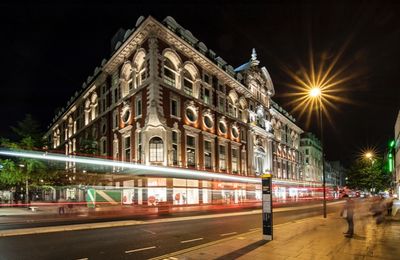 ---
On 27 November, at five o'clock in the morning, a sweep arrived to sweep the chimneys of Mrs Tottenham's house. The maid who answered the door informed him that no sweep had been requested, and that his services were not required. A few moments later another sweep presented himself, then another, and another, 12 in all. After the last of the sweeps had been sent away, a fleet of carts carrying large deliveries of coal began to arrive, followed by a series of cake makers delivering large wedding cakes, then doctors, lawyers, vicars and priests summoned to minister to someone in the house they had been told was dying. Fishmongers, shoemakers, and over a dozen pianos were among the next to appear, along with "six stout men bearing an organ". Dignitaries, including the Governor of the Bank of England, the Duke of York, the Archbishop of Canterbury and the Lord Mayor of the City of London also arrived. The narrow streets soon became severely congested with tradesmen and onlookers. Deliveries and visits continued until the early evening, bringing a large part of London to a standstill.
---
View our properties in Fitzrovia :
LET

1,686 - 12,823 sq ft

The building has undergone a comprehensive refurbishment to include a newly designed reception with feature lighting. The 1st to 5th floors provide bright open plan refurbished offices space. 250 Tottenham Cour...

shortlist

view

1,625 - 6,140 sq ft

The available 4th and 6th floors North are being refurbished to provide high quality, bright media space. The 2nd floor north is available from February 2018. Located in a prominent corner position on the south...

shortlist

view

960 - 3,029 sq ft

The office floors provide bright, open plan office space with demised kitchenettes and WCs. All three floors and the entrance/common areas have been redecorated and are now available for immediate o...

shortlist

view