Soho has to be one of the most colourful and famous areas of central London. The area was actually grazing farmland right up until 1536, when it was taken by Henry VIII as a royal park for the Palace of Whitehall. The name "Soho" first appears in the 17th century and it's believed the name derives from a hunting cry. The Duke of Monmouth used "soho" as a rallying call for his men at the Battle of Sedgemoor half a century after the name was first used for this area of London.
By the mid-19th century the area had become the West End's main destination for nightlife and fun and in the early 20th century started to become the culinary centre it is today when many different nationalities began opening eating-houses and restaurants. The neighbourhood became a fashionable place to eat for intellectuals, writers and artists. From the 1930s to the early 1960s, Soho folklore states that the pubs of Soho were packed every night with drunken writers, poets and artists, many of whom never stayed sober long enough to become successful.

---
Soho is now the creative hub of London's booming media industry and has the densest concentration of restaurants, cafés, clubs and bars in central London and truly represents the vibrant, bustling heart of this amazing city. It is also the modern hub of London's media world with multiple advertising agencies, television and radio studios and post-production companies choosing this as their base of operations. Soho is a location roughly bounded by Oxford Street to the north, Charing Cross Road to the east, Leicester Square to the south and Regent Street to the west. The name has been taken by other similar locations / districts throughout the world including Soho New York, Soho Hong Kong, and Palermo Soho in Buenos Aires. Did you know? That Marlboro cigarettes are named after Great Marlborough Street in Soho? They were first manufactured there and the brand, contrary to its macho cowboy image now, was originally launched for women.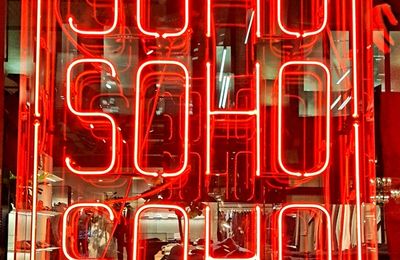 ---
So finding the right office to rent in Soho should be much easier. When searching monmouthdean.com for office space to let in Soho you will see various sizes and price ranges to accommodate your needs, ranging from cheap to high end offices in Soho which can both be easily found. There is long term and temporary Soho office space so just ask our members of our team if you are unsure. We can also assist if you are looking for a virtual office in Soho, or serviced offices. Below is our current selection of available office spaces to let in Soho or in close proximity :-
---
View our properties in Soho :